Reflecting on our first year after the agency rebrand, Rivet is really starting to generate buzz for delivering award-winning work for our clients. While it would be tempting to suggest that this is simple, the truth is work that delivers on the promises we make our clients takes a lot of effort, commitment, and creativity. Award-winning campaigns are not just magically blown in on the Gulf breezes that waft over our lovely beaches.
It takes a focused team to tell a story efficiently and effectively. Every aspect of the work is designed to make people feel something, and it takes a variety of storytellers working at the peak of their craft to not only find the best way to tell those stories, but also motivate and inspire people to action.
Too often, creative work tends to look and feel the same. Obviously, the quickest solution is to copy what's come before and leverage successful ideas, repurposing them to fit the needs of the client. A lack of conceptual skills will result in weak creative work. Therefore, assembling a team of strategists, designers, writers, and account managers with the right combination of creative and strategic thinking often delivers stronger ideas ­– ideas that go beyond the immediate need and set the client up for success well into the future.
Truly, the best creative is simple. Uncomplicated and direct propositions. Ideas that capture attention, hold it, and prompt some emotional, physical, or mental action on the part of the audience. Our philosophy with every client, every project is simple: capture, craft, connect, calibrate.
Ultimately, creative should make the desired point quickly and without being cluttered by complicated messaging. We talked a little about the process in our behind-the-scenes post, but it works for every creative opportunity our clients bring us.
You're here because you want to know what makes good creative. For us it means: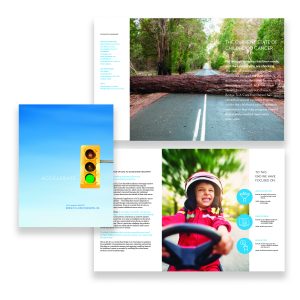 Unique visuals, informed by the brand, past initiatives, and client feedback. We're excited to tell stories that form a larger narrative; one that has the legs to can carry the brand beyond the current project. Just because you're tasked with designing an annual report doesn't mean you can leave creativity at the door and take a boring approach to design or execution because "all annual reports look, feel, and work the same." For us, finding interesting ways of framing ideas that surprise readers are part of the challenge.
This approach helped us deliver not one, but two award-winning Bridge To A Cure Foundation Annual Reports in 2020 and 2021. The latest work was recognized nationally by our peers for overall excellence, and for graphic design and art direction. This project featured all the elements we believe make good work. Unique visuals, great storytelling, simplification of complex ideas, and ultimately, a solution that differentiated itself within a rather ho-hum category.
Most agencies wouldn't expend creative energy elevating the project above the expected trends that usually inspire such work. It's what sets Rivet Brands apart from other choices: Do the right thing for clients. Awards will follow.