In the past 15 years, digital advertising has become the fastest-growing media player in delivering impressions, engagement, and revenue generation. According to the Internet Advertising Bureau (IAB), digital advertising revenue will overtake television and newspaper for the first time this year with 2021 seeing a 35% increase over 2020. Imagine that! The year after we all went into lockdown due to Covid-19 and were on our mobile devices ordering everything we needed, digital still had hefty increases. Want to know the reality? The sky is the limit.
If everyone is streaming content and focused on their device, why is it that television, newspaper, and magazines are still around? The digital revolution is still in its adolescence. Many people still love destination television, newspaper crossword puzzles, and even reading a magazine in the doctor's office. Wheel of Fortune and Jeopardy, or reality television shows like The Voice or The Bachelor are great examples of how traditional advertising is alive and well. Now, let's use a digital component to target those viewers and follow them through the purchase funnel. This is the best of both worlds (and is already here) because deep down that is what audiences really want. There is the sweet spot for advertisers and digital offers so many tools to do this; connected TV, targeted display, native ads, SEM, email marketing, digital radio, social media marketing, and more.
We live in a digital mixing bowl. Take NFL football fans, this is an easier target as most of them are checking scores online, looking for hours of their favorite place to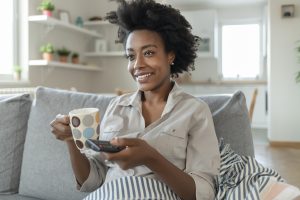 watch the game, and posting memes about the other teams their team is going to crush this week. We can target them throughout their digital journey and with multiple ads for products and services that align with their team. In the early years of digital advertising, we waited for them to come to us. Now, digital marketers are following consumers across the internet and even feeding them what they need before they know they need it.
One of the most difficult challenges of advertising campaign development is which media to allocate resources to. It isn't easy, almost any medium can work for almost any industry depending on the budget. How do you know which to use, digital or traditional? The answer is very simple, it's both. Think about yourself as a user of Media. Open up your iPhone and find out how long you are on it per day and then think about how much television you are watching or which ads you have seen and where. Beware, you may not be the best person to ask. Find your ideal customer and ask them to help with a little test. You may be surprised. If you are, it is time to research your audience, psst…we can help with that too.
There is also no sense in reinventing the wheel. Many case studies are available on campaigns that have worked with other companies in your category. The first step is finding the right partner to work with. Almost anyone can get your ads on the exchanges and target your audience. What will make them effective is the story. The connection to the prospect is the answer to why traditional media is still thriving and flourishing. Digital can get to the target better one-on-one, but traditional media connects to their emotions by using storytelling more effectively.
The perfect campaign doesn't exist, but the most effective ones use the best research, experience, media, targeting, and most importantly…the story that will connect your brand to your audience. If you are interested in learning more, drop us a line at hi@rivetingbrands.com.
About Rivet
Founded in 2019, Rivet is a full-service branding and advertising agency serving a diverse client base of innovative companies, change-making nonprofits, and entrepreneurial start-ups from its offices in Babcock Ranch, Florida, and Ann Arbor, Michigan. Rivet connects people to brands.
Learn more about Rivet Brands at rivetingbrands.com.